Why Do Jeep® Grilles Have 7-Slots?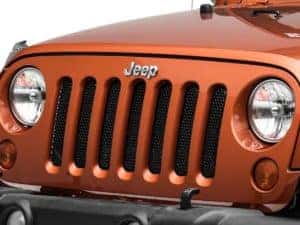 The iconic seven-slot grilles that are on every Jeep® model are one of the brand's most recognizable features. But, what inspired that design? Where did it come from? Why do they need 7 slots?
Some theories suggest the seven slots represent the seven continents, with the Jeep® being the first vehicle to drive on every continent – however, there is no real evidence to support this theory. The real reason is much simpler…
Trademarks and copyright infringement.
The first Jeep ever made was the Jeep® Wrangler – originally called the Willys MB. It was created by Willys-Overland for use in World War 2 and was formally named the U.S. Army Truck. While the original Willys MB had lots of features that we still see on the Jeep Wrangler today, the seven-slot grille was not one of them. The original grille was a flat iron "slat" style grille.
In April 1942, Willys implemented a new vertical slot grille design by Ford, bringing them a step closer to their iconic seven-slot grille. Both Willys-Overland and Ford were creating military vehicles, so it made sense for Willys to adopt Ford's new grille design on their World War 2 vehicles. The Ford grille design had a number of benefits; it was cheaper, easier to produce, and lighter than the original Willys MB grille. However, this was not the birth of the seven-slot grille which we see today. The Ford grille was very similar but had nine slots rather than seven.
When World War 2 ended in 1945, Willys wanted to sell the Willys MB in the civilian market. However, the grille design with nine slots belonged to Ford, so Willys couldn't trademark it. This led Willys to subtract two of the slots, giving them the seven-slot grille which has become the face of Jeep® vehicles and was enough of a change for Willys to be able to trademark the grille design. By the end of 1945, Willys had produced the Willys Civilian Jeep (also known as the Willys CJ).
Interested in receiving the latest updates from Phillips CJDR? Click here to register for our monthly newsletter.