What We Know So Far About the Jeep® Grand Wagoneer and Jeep Wagoneer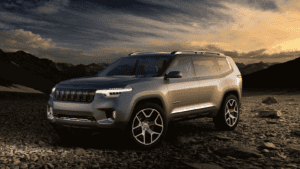 The new Jeep® full-size flagship SUVs, the Wagoneer and Grand Wagoneer are going to be joining the Jeep® lineup in 2021. There have been a number of spy photos appearing around the web, and we have learned a lot from interviews with brand executives, so now we have a fairly solid idea of what to expect from these two new Jeep® SUV models. Here's what we know so far about the two Wagoneer models which are expected to debut in the next year or two.
Photos of a testing prototype appeared back in April 2019, and they indicate that the Grand Wagoneer will likely use a modified variant of the Ram 1500 half-ton pickup's body-on-frame design. This is the first vehicle in a number of years which is offered with the body-on-frame platform. It's also rumored that the upcoming Wagoneer models will feature independent rear suspension too, making it the first Jeep® vehicle to go head to head with the already established heavyweights, such as the Ford Expedition and the Lincoln Navigator. This type of rear suspension setup will help improve ride handling while opening up the cabin, especially the cargo and third-row area, thanks to its compact design.
The CEO of Fiat Chrysler Automobiles (FCA), Mike Manley, stated in 2016 that the brand would start to offer the Wagoneer models with a plug-in hybrid powertrain. This has been reconfirmed since then, including the introduction of the plug-in Compass and Renegade models in Europe.
Read Why The 2020 Dodge Challenger is More Powerful Than Ever
It's believed that Jeep will implement the same two wheelbase lengths that are currently offered in the full-size SUV market, by Ford and GM. The shorter wheelbase model will likely be the Wagoneer, with the Grand Wagoneer featuring the longer wheelbase. While both models will offer the third-row seating, the Grand Wagoneer will offer considerably more space for passengers and cargo due to the longer wheelbase length.
Jeep confirmed in 2017 that both of these new models will be manufactured and assembled at the Warren Truck plant in Michigan. Jeep has indicated that production will start early in 2021, so if we're lucky, we may get an official glimpse of the vehicles this year as the brand gets ready to launch.
Interested in receiving the latest updates from Phillips CJDR? Click here to register for our monthly newsletter.