Third Consecutive Good Housekeeping Award Win for the 20201 Chrysler Pacifica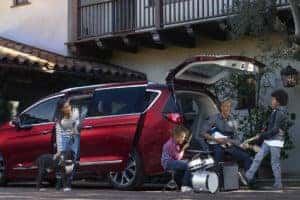 During this year's 2020 Best New Family Car awards, both Car and Driver and Good Housekeeping have recognized the 15 best-in-class vehicles. While typically you would have waited until the May 2020 printed edition of Good Housekeeping is released to see the entire list of award winners, both companies have already released their list of winners online.
The 2021 Chrysler Pacifica swooped up a place on the Best New Family Cars of 2020, which is this minivan's third consecutive award from Good Housekeeping. If you're wondering what helped the Chrysler Pacifica earn this award as one of the best family vehicles in 2020, then keep reading…
Safety & Family-First Technology
With the choice of a standard front-wheel drive, or a fully automatic all-wheel-drive system, the 2021 Chrysler Pacifica gives the drivers a choice in which system they are most comfortable with. On-top of the reliable all-wheel-drive system, the 2021 Chrysler Pacifica is the only AWD-equipped vehicle to also include Stow 'n Go seating, which is a big plus and a favorite among drivers with large families, giving you a large amount of extra space.
The 2021 Chrysler Pacifica minivan has more than 90 standard safety features, which makes it one of the industry leaders when it comes to standard safety technology. As well as the extensive list of standard safety technology, the Pacifica also comes armed with the latest and very best in entertainment technology, to ensure that every single one of your passengers is occupied, comfortable, and entertained while on the road.
The modern and refreshing exterior, alongside the fully-loaded interior, makes the 2021 Chrysler Pacifica a minivan to be admired on the road.
Interested in receiving the latest updates from Phillips CJDR? Click here to register for our monthly newsletter.