Technology and Comfort Features in the Powerful 2020 Jeep Gladiator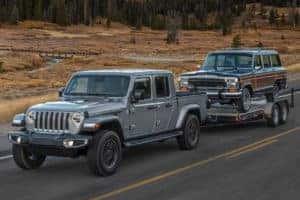 The pickup truck segment is one of the largest in the auto industry, and it's still on the rise. With the impressive powerful engines, hauling capabilities, and towing abilities, it's easy to see why this type of vehicle is such a popular choice with many vehicle owners.
Along with the rugged and powerful exterior look, the 2020 Jeep Gladiator takes the pickup truck segment to a whole new level this year, boasting an incredible list of comfort options and technology features.
Sure, you'll be ready to tackle a mountain or stream at a moment's notice. But the huge list of available technology features and comfort options inside of the impressive-looking cabin will keep you and your passengers comfortable, safe, and entertained during your journey to Dunkin.
Some of the most popular features include Android Auto and Apple CarPlay, a vivid 7-inch touchscreen display, a navigation system, SiriusXM satellite radio, Bluetooth connectivity, three Uconnect infotainment system options, USB ports to connect your own devices and media storage devices, plus so much more.
On top of the impressive list of technology features in the 2020 Jeep Gladiator, there is an equally impressive list of comfort options that include everything you need to ensure maximum comfort. With a number of different trim options, you can find comfort favorites such as leather seats, dual-zone automatic climate control, heated front seats, heated steering wheel, power windows and locks, keyless entry, lockable storage compartments, plus a variety of other options which everybody in the car will benefit from while driving on the road.
If you are interested in finding out more about the 2020 Jeep Gladiator, stop on by Phillips CJDR in Ocala, FL for a test drive and see these features for yourself.
Interested in receiving the latest updates from Phillips CJDR? Click here to register for our monthly newsletter.