Quarantine Is The Perfect Time to Declutter Your Messy Garage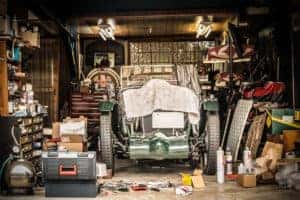 During the Coronavirus pandemic, many of us have had to spend a lot of extra time at home, avoiding going out except for essential trips. Some of us have been super-motivated and have spent the extra free time thoroughly cleaning every nook and cranny of our homes – even the garage.
For the rest of us, who have felt more stir-crazy than motivated, our focus has been more about dealing with self-isolation or being around our families 24/7; and the only time we use our garage is when we open up the kitchen door to throw Amazon boxes! 
If this is more of your style, your garage is probably starting to look quite messy (if it wasn't looking messy before self-isolation!). There are some small signs life is beginning to return to the "new norm",  now is the perfect time for you to tackle this mess and restore your garage to a clean and comfortable place to store your vehicle and those garage essentials. You will be surprised at just how much space you can make by spending a short amount of time simply decluttering your garage.
Here are a couple of simple tips on where to start, in order to regain the storage space in your garage.
Time to Ditch the Amazon Boxes – 

People tend to keep boxes because they do come in handy, but there are so many places you can get boxes for free if and when you need them. You have probably seen people posting on Facebook asking if anyone has any spare boxes, and they are always flooded with people offering them boxes for free! There's no need for you to keep those empty boxes taking up space in your garage. Take a knife, flatten them down, and send them off for recycling!

Recycle Those Aluminum Cans –

Aluminum cans are one of the number one culprits for taking up space in people's garage. Not only can you help keep the Earth clean by taking these cans to your local recycling center, but you can also earn a little bit of money in the process! 

To help keep your garage clean, consider installing a dedicated can crusher (these can be wall-mounted) and then have a dedicated recycling bin and take it to your local recycling center every time it gets full. You'll earn a bit of money, and keep the space in your garage.
Forget Anything Which Doesn't Bring You Joy or Purpose –

A lot of us tend to hang on to items because we think that maybe one day we'll find a use for it again. This causes cluttering and takes up valuable space. You probably will never find a use for that ugly garden gnome that was gifted to you many years ago, so do yourself a favor and get rid of it.

 If you have items that you think may be of use or bring joy to someone, then consider having a garage sale, take everything that you don't want from your garage, get it on your front lawn, and have a weekend garage sale – whatever is left when the weekend is over, get rid of it!
Interested in receiving the latest updates from Phillips CJDR? Click here to register for our monthly newsletter.