Jeep Wrangler Makes Autotrader's 10 Best Cars for Recent College Graduates List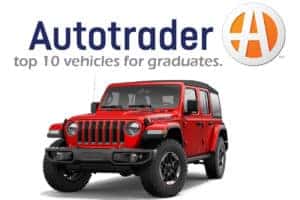 On May 12th, Autotrader announced that the Jeep Wrangler and the Fiat 500 are among the top 10 Best Cars for Recent College Graduates. The judges at Autotrader took into account new and used vehicles that offer high-tech features, stylish looks, excellent fuel economy, or a mixture of the above. The attribute which was among the highest priority was that the cars were affordable.
With affordability and practicality in mind, the editors at Autotrader identified their 10 Best Cars for Recent College Graduates in 2020, and both the 2012-1027 Fiat 500 and the 2012-2017 Jeep Wrangler scored a place on the list.
Executive Editor at Autotrader, Brian Moody, said "At Autotrader, our goal is to help people navigate the car-buying process through our extensive lists of vehicles that suit consumers' various needs, … With this in mind, we came up with a list of cars that offer both practical and affordable features recent college graduates should consider if they're buying a car." 
Here's what Autotrader had to say on these cars making the list:
Fiat 500: "A Fiat 500 can be a great little city car for college grads with an eye for style. This Fiat is a breeze to drive and park on urban roads thanks to its small footprint."
Jeep Wrangler: "The Jeep Wrangler has a well-deserved reputation as an off-road icon. Surveys have shown that it's one of the top dream cars in America and it's more within reach than you might think."
Autotrader has the most engaged audience of in-market shoppers and is the most visited third-party car shopping site. When they deliver awards, you can be sure that they are based on nothing but rock-solid facts, reviews, and experience. If you are newly graduated and looking for a car, then you should take their advice and consider a Fiat 500 or a Jeep Wrangler for the ultimate driving experience at an affordable price for new graduates.