Introducing the All-new Uconnect 5 Global Platform, the Most Advanced Uconnect System Ever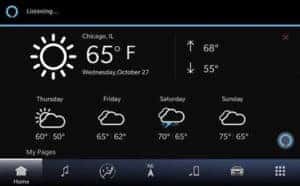 The all-new Uconnect 5 system is the most powerful Uconnect system yet, it's the best connected, most helpful, content-rich, and personalizable system ever seen in Uconnect. Thanks to Uconnect 5's Android operating system, Uconnect users will be able to access a huge catalog of applications to answer the increasing demand for improved user experience. Additionally, the Uconnect 5 architecture is now scalable across all FCA brands.
The new Uconnect 5 system has a great range of advanced new features and technology, with processing speeds up to five times faster than previous versions. Some highlights of the new features provided in the Uconnect 5 system include:
Up to 5 user profiles, plus a valet mode, allowing drivers to set their vehicle preferences with the touch of a button

A customizable home screen to allow placement of your most frequently used apps and features quickly and easily

Alexa "Home to Car" and "Car to Home" functionality and features, as well as the ability to use the Alexa virtual assistant in-vehicle

4G LTE Wi-Fi hot spot with enough power to keep up to 8 devices connected

Wireless Android Auto and Apple CarPlay to make sharing and connecting easy

Dual phone connectivity to allow more than one phone to be connected to the system simultaneously

Get improved software updates seamlessly with Firmware Over The Air (FOTA)

Card-based screen design gives the system a refreshed look and feel

Screen area of 12.3 inches, supporting up to 15 million pixels in Ultra HD – the largest screen area ever offered in an FCA product

Global capability providing service for vehicle owners in over 150 countries
In today's digital age, Uconnect bridges the gap between your vehicle, your home, and your smartphone. Thanks to Alexa built into Uconnect, you can easily ask your Alexa device at home to start your car, unlock the doors, turn on the heating, lower the windows, among other things. With the addition of Alexa "Car to Home", you can also connect with your house while you're in your vehicle, for example, pulling up on your driveway and asking Alexa to turn your porch lights on. With the Uconnect app available on most smartphones, you can perform many other functions for your vehicle remotely with just a few clicks on your smartphone. 
Uconnect is an award-winning system that was first released in 2003. Since then, the Uconnect system has continued to improve, becoming more powerful, and offering more features with each and every version. Uconnect 5 is the fifth generation of Uconnect, and continues to forward to momentum, making Uconnect one of the best digital platforms available for many vehicles.
Interested in receiving the latest updates from Phillips CJDR? Click here to register for our monthly newsletter.