How To Remove The Doors on Your 2020 Jeep Wrangler and Gladiator by Yourself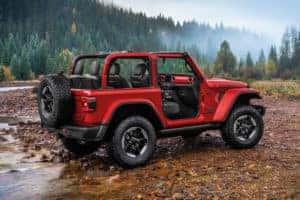 If you own a Jeep Wrangler or a Jeep Gladiator, then it's probably safe to assume that you love adventuring in the great outdoors! That's what these vehicles are made for, action and adventure! Removing the doors on your Gladiator or Wrangler is the perfect way to get more of the fresh air inside your cabin and let you really get a sense of being out in nature while driving your vehicle. 
To help you keep your doors and your Jeep in good condition, we have put together this quick guide on how to remove the doors on your 2020 Jeep Gladiator or Wrangler by yourself, so you can make the most of the summer sunshine.
Before you begin, we recommend laying down some towels or blankets on the area where you'll be placing your doors, this will help to protect them. When you remove your doors and store them, we recommend either hanging them on your garage wall using a cut pool noodle to protect the window frame, or by placing a towel or blanket underneath the door and then leaning it against a wall, with the interior side of the door facing the wall.
How to Remove Jeep Doors in 10 Steps
Start by rolling down the windows completely on both the passenger's side doors and the driver's side doors.

Grab the #T50 Torx head driver from the tool kit in the center console of your Jeep.

Using the #T50 driver, remove the hinge pin screws from the underside of the lower and upper side door hinges.

Place the screws securely in the dedicated screw bolt tray.

Just underneath the instrument panel, you'll find the door for wiring access. Open it by sliding the cover straight back and then detach the tabs.

Find the red colored locking tab on the wiring harness, and then push it in an upward motion to unlock the harness.

Find the black colored security tab which is located behind the wiring harness, and then push down on the tab while lifting the harness lever in an upward motion.

Pull the harness straight down in order to disconnect the wiring connector. You can then store the connector safely in the lower basket of the door.

Next, find the #T40 Torx head driver in the tool kit, and then use it to remove the check screw from the center door check. Place this screw in the bolt tray for safe storage.

With one and at the top of the window arch, and one hand securing the bottom of the door, open the door fully and lift it clear of the hinge pins to successfully remove it from the vehicle.
Interested in receiving the latest updates from Phillips CJDR? Click here to register for our monthly newsletter.