How To Keep Your Vehicle's Cabin Free From COVID-19 and Other Viruses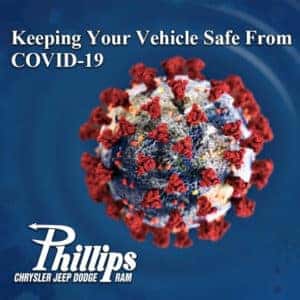 With the Coronavirus (COVID-19) pandemic reaching its peak here in the U.S., we've all become more conscious about keeping living and work areas clean and germ-free. This cleanliness should be applied to your vehicle's cabin too, as your vehicle can be a breeding ground for bacteria and germs, so it's wise to make sure your cabin is regularly cleaned and disinfected. 
While the government has said that keeping your hands clean is one of the best ways to combat COVID-19, making sure high-touch surfaces are disinfected and clean will also help prevent the spread of the Coronavirus. 
Disinfecting Your Vehicle with Household Cleaners
Most household cleaners are safe to use on your vehicle's interior and are strong enough to kill the Coronavirus too, however, you should apply the cleaner to a small hidden area in your vehicle to make sure there is no bleaching or discoloration. If you or someone who has recently been inside your vehicle start to show any signs of Coronavirus symptoms, then it is critical that you act right away and do a thorough cleaning and disinfect your entire vehicle cabin.
The most important areas to clean are the ones which are touched most frequently, this includes things such as the steering wheel, seatbelts, armrests, mirrors, multimedia controls, shift lever, wiper and turn signal levers, and sun visors. 
When you are choosing a cleaner to use inside your car, you should avoid any cleaners which contain bleach or hydrogen peroxide, as these can cause serious damage to your vehicle's upholstery. Any cleaning solution which provides an alcohol level of 70% or more should be effective enough to kill the Coronavirus and most other germs, cleaning solutions with isopropyl alcohol are the top choice for killing the virus inside a vehicle without causing any damage to your interior.
At Phillips Chrysler Jeep Dodge Ram in Ocala, Team Phillips is working hard to ensure the safety of our guests by following the strict guidelines established by the CDC to help prevent the spread of COVID-19 as well as other viruses.
Interested in receiving the latest updates from Phillips CJDR? Click here to register for our monthly newsletter.