How Much Space Is In The 2020 Jeep Renegade?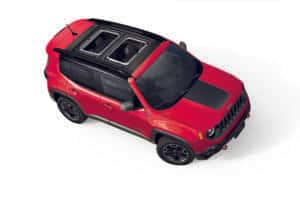 The 2020 Jeep Renegade is one of the most popular Jeep vehicles, and it's easy to see why. As a "subcompact" SUV, its size makes it easy to navigate around town and to squeeze into those smaller parking spots at the grocery store. 
The boxy shape and fantastic color options help this compact SUV stand out from the crowd. The shape of the Jeep Renegade also allows it to offer a huge amount of cargo space considering it's small and compact size. Let's take a look at exactly how much you can fit inside of the 2020 Jeep Renegade.
2020 Jeep Renegade Cargo Space
There is a whopping 18.5 cubic feet of storage space behind the rear seats of the 2020 Jeep Renegade. This provides more than enough space for groceries, and for that weekend away where you need extra storage space for a couple of suitcases.
If you're planning a bigger adventure, such as a road trip, you can fold the rear seats down and increase the cargo space to a maximum of 50.8 cubic feet.
Tie-downs come standard in the 2020 Jeep Renegade, which means you don't have to worry about your fragile cargo shifting around during your journey. You can also purchase additional cargo accessories specifically designed for the Renegade to further enhance the stability and security of your cargo.
When it comes to loading your Renegade and removing your cargo, you'll be happy to know that the vehicle's liftgate has a wide-opening to make loading and unloading easy.
If you're looking for a compact sport utility vehicle with great looks, a smooth ride, and plenty of cargo space, then the 2020 Jeep Renegade is an easy choice.
Interested in receiving the latest updates from Phillips CJDR? Click here to register for our monthly newsletter.