Exciting Entertainment and Safety Features in the 2021 Chrysler Pacifica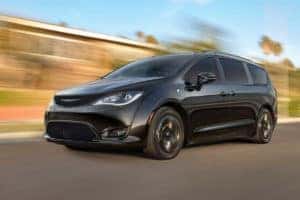 There are a number of new updates coming to the 2021 Chrysler Pacifica, including all-wheel drive capability, industry-leading safety features, utility updates and even an all-new model option. The incredible lineup of safety and entertainment features in the 2021 Chrysler Pacifica is sure to impress even the most demanding of families.
Offering more standard safety features than any other vehicle in the automotive industry, the 2021 Chrysler Pacifica is the perfect choice for families who see safety on the road as one of their top priorities when it comes to choosing a new family vehicle, with 97 safety features included as standard, and 116 safety features available across all Pacifica models. This is an additional 14 standard safety features being included for the 2021 model, including LED lights and Pedestrian Automatic Emergency Braking.
Other additional safety features for the 2021 Chrysler Pacifica include:
Rear Cross Path Detection
Blind-Spot Monitoring
Lane Departure Warning
Rear Park Assist
Forward Collision Warning with Full Stop
Adaptive Cruise Control with Full Stop
Electronic Stability Control
The all-new Uconnect 5 system is also going to be included in the 2021 Chrysler Pacifica, this system includes a 10.1-inch touchscreen and includes all of the features you know and love, such as Android Auto and Apple CarPlay, as well as new additions like Amazon Alexa Skills. This is the first time the system is going to be available in North America, and it comes as standard in each and every 2021 Pacifica model. Being a family vehicle, it's a great addition that up to 6 different users can customize the home screen on the infotainment center, allowing each driver to set their preferences for music, seating, comfort, and much more.
The 2021 Chrysler Pacifica is due to join dealership showrooms towards the end of 2020, and will be bringing the most standard safety features in the industry. View the full list of safety and security features here, https://www.chrysler.com/pacifica/safety-security.html and keep an eye on our blog to find out more about the 2021 Chrysler Pacifica as it's showroom launch date gets closer.
Interested in receiving the latest updates from Phillips CJDR? Click here to register for our monthly newsletter.