6 Fun & Handy Features in the 2020 Jeep Renegade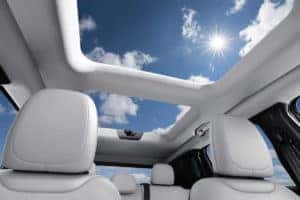 Jeep has always been recognized as a brand that caters to the extreme and adventurous, producing incredible sports utility vehicles that can handle almost any terrain put in front of them. The 2020 Jeep Renegade is no different, and here are some exciting features you can find in this vehicle.
MySky Removable Sunroof
Many may think the Wrangler is the only Jeep vehicle that's available with a removable top, but this isn't the case! The 2020 Jeep Renegade can also be equipped with the removable top. It's super easy to remove the two panels and store them in the cargo area, allowing you to bring the outdoors inside the vehicle's cabin. If you love nature and the off-roading, then this option will help take your weekend excursion to the next level!
2. Rearview Camera
The handy rearview camera system comes standard with all of the new 2020 Jeep Renegade models. It provides a high-quality video feed to assist, with parallel street parking and reversing out of tight spaces. The video is displayed on either a 5-inch or 7-inch backup monitor. You will not need to worry about backing into objects while you're out driving ever again.
3. Infotainment Updates
There is an upgraded Infotainment system that comes with the Latitude trim level and any trim above that. This update includes a larger 7-inch touchscreen and includes Bluetooth technology so you can make hands free calls and text messages.

4. LED Cabin Lighting
Set the mood inside the cabin of your 2020 Jeep Renegade if you opt for the Latitude or higher trims, with LED ambient lighting. You can adjust the colors and the brightness to help reduce any anxiety and stress which is usually associated with long trips.
5. LED Exterior Lighting
Upgraded LED exterior lights to ensure that you have enhanced visibility anytime you are on the road; whether that's driving during the day, at night, or in bad weather. The headlights, daytime running lights, and taillamps are all powered by LED lights, providing optimized visibility, giving you more time to see and react to any potential dangers on the road.

6. Automated Parking System
If you find yourself regularly parallel parking on busy streets, then the Automated Parking System which comes on the higher level Limited model will make a great addition for you. No more trying to wiggle in and out of a tight space, just sit back, relax, and let your 2020 Jeep Renegade do the parking for you!
Stop in and take the 2020 Jeep Renegade for a test drive at Phillips CJDR in Ocala.
Interested in receiving the latest updates from Phillips CJDR? Click here to register for our monthly newsletter.